Did you realize that perhaps you don't need an entirely new mattress to get a more comfortable night's sleep? Thousands of people around the globe figured out that sleeping with a dakimakura pillow helps align their backs and so much more. People are waking up feeling like they slept on a brand new mattress — after paying far less for an adorable pillow.
Since the 1990s, dakimakura pillows have grown more and more popular for many reasons. This trend from Japan is catching on all over the globe. It's time to find out why everyone is raving about these cool pillows turned collector's item.
What Is a Dakimakura Pillow?
In the early 1990s, a company from Japan called Cospa created a body pillowcase printed with an anime character. The company likely had no idea that it was starting a trend that would span over a decade and create fans the world over. Today, there are countless companies, including Cospa, selling all kinds of dakimakura pillows. You can get them in several different sizes and with nearly any image on them that you can think of because of custom options.
Dakimakura is the term that people use when they are talking about the pillow itself. However, please note that when you buy one, in most cases, you won't get the inner pillow part — you only get the cover for the "inner pillow." You have to order the pillow separately. We will dig into all of that, as well as the best places to shop for your own dakimakura pillow, and what to look for when you do in later sections.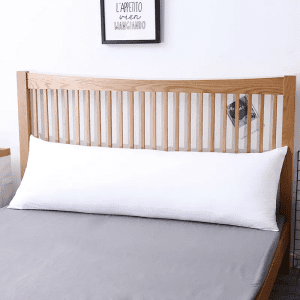 Health benefits of sleeping with a dakimakura pillow
There are not any official studies done on this subject. However, thousands of people have now used a dakimakura pillow, or body pillow, and report that they have immediate physical and mental health benefits from doing so. Please note, though, that you need to get a quality dakimakura to notice the results.
Physical benefits of using a dakimakura pillow:
Contours to your body and relieves knee, hip, and back pain
A dakimakura pillow can help align your spine
Can help support the weight of a growing pregnant woman in different positions
Can relieve discomfort associated with chronic pain conditions like fibromyalgia
Adult options that we will mention but not discuss
One additional thing before we start to dig into the different options available with the dakimakura pillows — there is an adult element to some of these pillows. Some of the graphics show nudity on one or both sides of the case. So, when you are looking into these online, keep that in mind. Sites will require you to confirm your age before they show the adult stuff, but we wanted you to be aware of that element.
Different fabric options for a dakimakura pillow
One of the most commonly asked questions concerning the dakimakura pillows is about the different fabric options available. Here's a list of the main fabrics you will find available.
Peach skin
Peach skin is one of the most cost-effective materials that companies use in the dakimakura pillows. It's 100 percent polyester, and the graphics tend to print on there nicely. This fabric feels very smooth, and it's incredibly durable, but it does not have any stretch to it — so keep that in mind. Companies that create original works rarely use this fabric.
Soft velvet
Dakimakura pillows also come in super-soft velvet. It's the same velvet you are probably already familiar with. You should only select this fabric if you are prepared for the graphic to look a little blurrier and you want to stay very warm.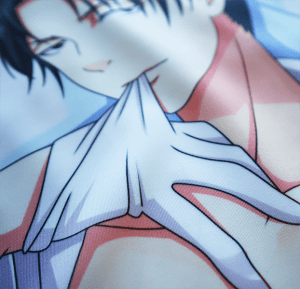 Two-way tricot
The two-way tricot fabric tends to be a favorite amongst fans of the dakimakura pillow. Most of the companies that create dakimakura pillows use some version of this fabric. This fabric is smooth and incredibly elastic and stretches in four directions. Graphics printed on this fabric are crisp and colorful. Reviewers noted, though, that this selection is a little simpler to snag on sharp objects than the other choices, so be careful.
Smooth knit
Dakimakura pillows also come in a material called smooth knit. Smooth knit is a slightly elevated version of the peach skin, and it's also 100 percent polyester. The graphics print onto this fabric beautifully, and it never fades. This fabric is soft and difficult to wrinkle but can only stretch in one direction.
Twill
Finally, Cospa, the company that started the whole thing, uses a fabric called twill. We couldn't find many fans of this budget-friendly choice, so perhaps it's a good idea to avoid it. However, there are a few collectors who want to hang their dakimakura pillows and don't care about comfort. If that's the case, here's the link the Cospa's page. Warning, though, it is in Japan and shipping from there can be tricky.
Dakimakura pillow sizing and options
We already told you that Dakimakura describes the outer shell as well as the inner pillow, but you have to purchase the inner fluffy part separately. On top of that, these pillows usually come in three different sizes — 150 by 50 centimeters, 160 by 50 centimeters, and 100 by 35 centimeters. The pillows themselves are called the "inner pillow." We will provide links below on the best places to shop for those, as well. Some people also purchase an inner cover which goes between the pillow and the dakimakura for an extra layer of protection and softness.
The Top Places To Shop For Your Dakimakura Pillow
Now, we are going to talk about the best places to shop for your dakimakura pillow. The things you want to look for, on top of the fabric and the size, are the zipper, the quality of the print, and the quality of the cover itself. Please note a lot of the retailers that sell dakimakura pillows only ship to the United States through a proxy. We didn't include any of those on this list. That still leaves plenty of options, though, so don't worry. We will tell you absolutely everything we can learn about each site, both the good and the bad.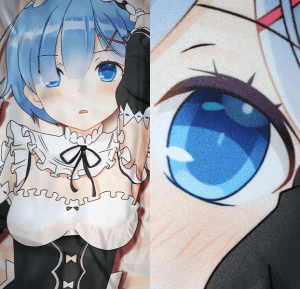 AnimeBodyPillows
We might be biased, but for English speakers, our platform is currently the industry leader. With quality that competes with the very best in Japan, a large selection of designs, fast shipping and plenty of add-ons, AnimeBodyPillows is an easy choice.
Fabric used: two-way tricot or peach skin
High quality printing
Custom orders available
Both NSFW (not safe for work) and all-ages options are available on the site
Order tracking
Over 1000 designs available and hundreds of characters
Inner pillows available
Competitive pricing, even cheaper than most Japanese stores
Amiami
The next outlet on the list is Amiami. This outlet is an extensive collection of all things Japanese and anime with a huge selection of dakimakura pillows. You will have to convert the prices from Japanese Yen.
Fabric used: two-way tricot
Designs mostly only available in 160 by 50 and 150 by 50-centimeter sizes
Both NSFW (not safe for work) and all-ages options are available on the site
Amiami ships to the United States — a few customers said that shipping could take a while so keep this in mind when you place your order
You can order the inner pillow from this site as well, even one made by Cospa (the original)
Mandarake
The next retailer on our list where you can purchase an original dakimakura pillow is called Mandarake. Now, this site is very much like an online mall. You can buy your pillow from many different retailers right on this one site. Not to worry, though, the people that run the Mandarake are earnest about keeping bootleggers at bay, so you won't find anything but originals here. The great thing about this page is that you can order your dakimakura from companies that don't usually ship to the United States, eliminating the need for a proxy.
Safeguards ensure that you are only getting an original dakimakura design
All ages as well as adult versions available
Hundreds of choices in one easy location
Used products available at discounted prices
Now You Are Ready For The Best Night's Sleep You Ever Had
On top of the dakimakura pillows we just learned about being beautiful, let's not forget how useful they are, as well. Pregnant women, people with back problems, restless sleepers, and countless others report that sleeping with their new pillows gave them the best night's sleep they ever had.